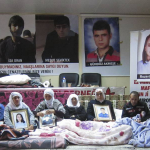 From 21 to 24 of January 2016, a delegation of 10 lawyers from Austria, Belgium, Germany and Italy visited Diyarbakır, Turkey. The mission was coordinated by two European lawyers' organizations—the European Association of Lawyers for Democracy and Human
Rights (ELDH) and European Democratic Lawyers (EDL)—and the Unione delle Camere Penali Italiane. It was supported by the ÇHD (Çağdaş Hukukçular Derneği) (Contemporary) Progressive Lawyers Association.
Purpose of the Delegation
The purpose of the delegation was to collect information about curfews imposed on Kurdish districts in the provinces Diyarbakır and Şırnak and their impact on the population. The delegation concentrated on the situation in Diyarbakır.
Organizations and Institutions that Received the Delegation and gave Testimonies
The lawyers had meetings with the Diyarbakır Bar Association, two human rights organizations, the Diyarbakır Chamber of Doctors, the Free Woman's Congress (KJA), the co-mayor of the city of Diyarbakır, the People's Democratic Party (HDP) and families of victims. In the course of these meetings, they received reports about the dramatic situation.
Individual Witnesses and Lawyers who Gave Testimonies
The lawyers delegation also met families (mostly women), some of whom had been on hunger strike to receive permission from the army, police or the governor to bury their killed children, whose bodies had been left lying in the street for up to 28 days.
The lawyers delegation spoke to a lawyer representing seven citizens of Sur (five living under the curfew and two in the security zone) and who, after taking legal action before the Turkish courts in vain, had appealed to the European Court of Human Rights.
Meetings with the Representatives of the Army or the Governor
The members had no chance to meet the military commander or the governor. This report will be sent to them for their comments and explanations.
In the course of these meetings, the delegation received reports and testimonies about the dramatic situation inside but also outside the curfew zones.