On 15 and 16 October 2020 a very well attended video conference with about 650 registrations was organised by the European Trade Union Institute (ETUI), the European Lawyers for Workers (ELW) Network and the European Trade Union Confederation (ETUC), with the support of the European Association of Lawyers for Democracy and Human Rights (ELDH). Simultaneous translation was provided with English, French, German, Italian, Spanish.
The idea behind the conference was to constructively engage with the issue of digitalisation and its disruptive effects on the world of work. COVID-19 has aggressively turned our lives upside down. It is too early to tell how deeply the pandemic is changing our society, but one thing appears clear: technology will play an ever more pervasive and essential role in our working and private lives. The first signs are already there: those who can are now working remotely via digital tools, and many have been relying on food delivery by platform workers. Moreover, policymakers worldwide are envisaging collaborations with technological developers to create 'virus-tracking' apps.
The experts who were speaking at the conference were trade lawyers, academics, and trade unionist. They came from various European countries, Belgium, France, England, Germany, Greece, Italy, Poland, Portugal, Spain, Switzerland.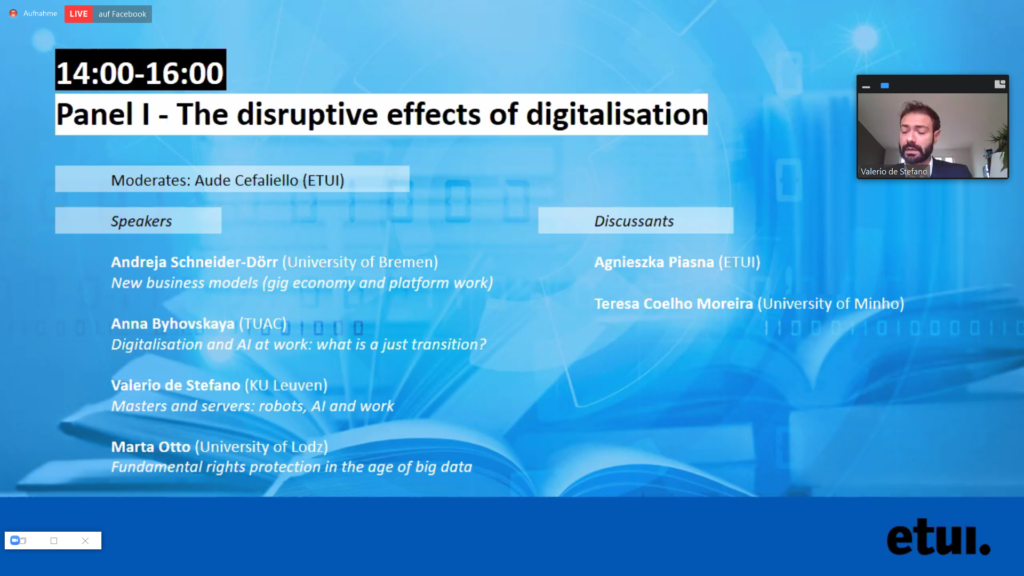 The conference aimed to provide both theoretical reflections and more pragmatic discussions on best practices, and to create a synergy between these two dimensions. It was divided into four sessions:
1) Keynote presentations, to introduce the different thematic areas and their main critical issues;
2) Litigation strategies, to offer insights into litigation approaches across countries and sectors;
3) Trade unions and works council strategies, to discuss initiatives to enhance the bargaining position of workers;
4) Policy responses, to offer reflections and explore proposals on the future of policy- making in labour matters.
The conference took the form of a series of webinars, which will were livestreamed from the International Trade Union House (Brussels).
Some conclusions:
– in all countries in Europe the increasing use of digitization of work, of artificial intelligence and of platform work can be observed,
– in no country the legal provisions are adequate to provide the general level of protection of labour law to employees affected by digitization and their trade unions. This also applies to the directives of the European Union.
– lawyers and trade unions know how to take advantage of these inadequate legal frameworks to represent the interests of employees and can learn a great deal from each other in the process.
– the EU still has a tough road ahead of it to ratify the much needed legal framework so that digitization does not become a curse, especially for those employees who are denied the protective shield of labour law
The necessary improved legal framework will not come about solely from discussions at conferences. Only the joint struggle of the workers will bring real progress here. However, these conferences can be used to develop strategies for making better and more effective use of the existing legal provisions and to provide indications for trade unions and the legislator to close existing regulatory gaps. At future meeting on this topic we should include those affected by digitization, the platform workers, and the computer scientists.
The full recording of the conference is accessible on the ETUI website
A report and all papers and presentations will be published on the same website in a few weeks.